Skin Consultation
€25 – Redeemable against product purchase.
If you have any of the following skin concerns on the face or body you could avail of a skin consultation.
Acne, Rosacea, Pigmentation, Age spots, Flakiness, Rough Skin Texture, Oily skin, Spot breakouts, Black heads, Congested skin, Ingrown Hairs, Blemishes, Scars, Open Pores, Sensitive skin, Eczema, Psoriasis, High color, Red-veins, Fine Lines, Wrinkles, Stubborn Lines, Aging, Skin discolouration, Sun Damage, Solar Keratosis, Thickened skin, Loss of elasticity, Thinned skin, Combination skin, Sensitive skin or any other skin condition .Book a consultation with one of our professional therapists.
Eminence Organic Facial Menu
Eminence is a powerful organic luxury brand that harnesses the phytoceutical power of plants. Its celebrity following includes: Victoria Beckham, Jennifer Lawrence, Meghan Markle and Jennifer Aniston. 
The ingredients of organically grown fruits, flowers, herbs and spices with active proteins and peptides  are prepared with time honoured herbal traditions blended with cutting edge scientific research to give results you will immediately see and feel in your skin.
Eminence facials are bespoke, skin changing with the effects kept up using after Eminence products at home.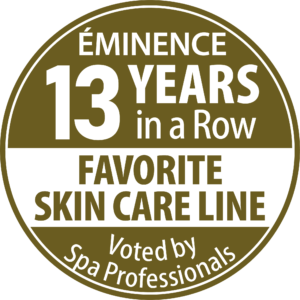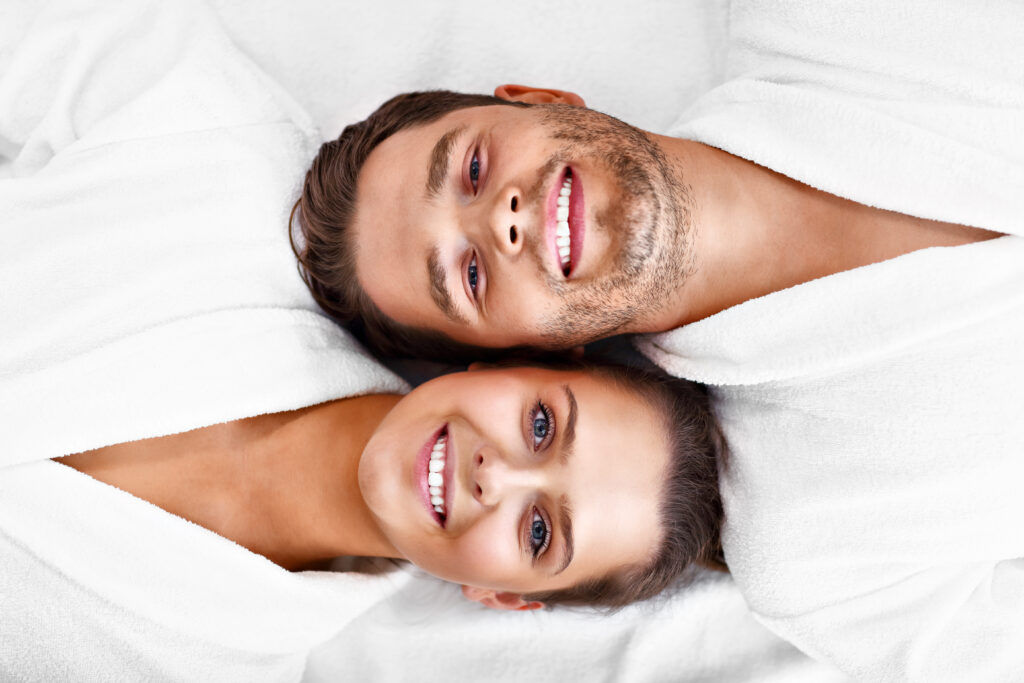 Signature Vitamin C Heat Facial

Relax as your skin is transformed with layers of warm herb-infused spice peels, followed by masques combined with invigorating Hungarian facial lifting and toning massage techniques. 
The treatment is focused on refining the skin's texture – increasing circulation and oxygen levels while infusing the skin with Vitamin C. The results are immediately visible and long-lasting. You will be left with youthful, tightened and toned features with a smooth textured glowing fresh complexion.
The Eminence Effect of tighter pores and a fresh glow along with deep relaxation has to be experienced to be believed, a truly phenomenal result of clear, toned and refreshed skin!
Pumpkin Latte Special Facial
Often evoking memories of a tasty coffee cake or pie, a luscious layer of a pumpkin face mask not only smells heavenly, it also leaves your skin baby soft and silky smooth. 
Benefits range from adding nutrition to the skin, increasing moisture levels to brightening skin tone. Pumpkin pulp and pumpkin seed oil contain a wide array of beneficial nutrients including vitamins, minerals, fatty acids and alpha hydroxy acids (AHAs).
Our Pumpkin Latte Special Facial incorporates the Yam and Pumpkin Peel and the Pumpkin Latte Masque which results in an increase in  the skin's natural moisture balance with Vitamin E and Omega 9 nutrients to fight the appearance of ageing and environmental stress on your skin.
Radiant and plump skin results along with divine relaxation!
"But a little more than 24 hours after my treatment, I've gotten loads of people asking me what I had done to my skin – and my face has never felt better," Jade Hayden from Her.ie reviewed the facial! See it here
Personalised Prescription facial
We comprehensively examine your skin and listen to your skin concerns. Targeted Eminence organic technology is used to give you an unforgettable facial that can be tailored over time as and when new skin concerns arise. 
While your skin is being transformed you will deeply relax experiencing a muscle lifting and toning Hungarian massage. This potent facial will be tailored to your skins specific needs on the day and will continuously be tailored as your skin changes over days, months, years and seasons.
"I hadn't noticed how dull and grey my skin had been before the Eminence Facial; after it looked bright and glowy and it felt really deeply cleaned. It would be amazing the day before a big event; in fact, I wish I'd had had one the day before my wedding," Miriam Burke, Beaut.ie
Mangosteen Gentle Resurfacing Facial
Get the most marvellous glowy skin before an event without any side effects. This advanced resurfacing facial treatment uses the power of our proprietary Lactic Acid Complex paired with antioxidant-rich 'super fruit' Mangosteen to elevate your complexion's natural glow. 
It works by resurfacing and refining skin tone without irritation or down time.
While your skin is being transformed you will deeply relax during your facial muscle lifting and toning hungarian massage.
Natural Retinol Vitamin A Facial
It's an age-corrective collagen repairing facial with immediate and lasting results.
Take your skin on a collagen boosting retreat to paradise with coconut, bamboo and Tahitian flowers to renew and replenish your complexion. 
This facial will immediately lift and tighten skin, erase wrinkles and crow's feet, and increase collagen for skin that appears, and acts, 
An exclusive clinically-proven Natural Retinol Alternative Complex, made with chicory root oligosaccharides and tara tree gum, and revolutionary PhytoCellTec™ Swiss Green Apple stem cell technology works to give the same effect months of retinol use gives.
Eight Greens Phyto Facial
The perfect facial to combat hormone-related skin issues. This facial will improve the appearance of problem skin areas leaving the skin revitalised and re-energised. 
Most people will go through a hormone imbalance at some time in their lives. Whether it be an excess of testosterone leading to breakouts, or stress hormones as a result of study or a life change.
Eminence eight greens phyto range of skin care works to rebalance the skin for both men and women during hormonal imbalance. The products also treat signs of ageing in menopausal, adult acne or teenage acne.
A personalised prescription ultra-hydrating volumising and firming facial with botanical hyaluronic acid to protect, rejuvenate and restore hydrated radiance. Potent anti-oxidant acai berries, polyphenols and cell regenerating seabuckthorn berry with hyaluronic acid firm the skin and protects from future damage. Reduces wrinkle depth and banishes signs of aging.
Irritated skin needs careful and gentle treatment and Eminence facials are a huge help if your skin is feeling less than itself. Eminence has been a leader for many years in dealing with sensitised skin. 
This is the perfect facial to target the visible signs of sensitive and rosacea prone skin and redness. Healing ingredients are infused into the skin, including: rosemary, arnica, and chamomile combine to ease redness and irritation.
Anti-inflammatory ingredients dramatically calm and soothe the skin leaving it nourished, restored and balanced.
Dark spots, hyper-pigmentation and dull skin is targeted in this therapist-prescribed facial. 
Brightening bearberry, lightening liquorice and soothing stonecrop fades pigments and while infusing the skin with anti-oxidants improving your skin's clarity without irritation. 
It will target dark spots or hyper pigmentation or simply rejuvenate and brighten up dull skin.
Gigawhite – Eminence's natural hydroquinone alternative will reduce blotchy pigmentation and leave skin clear and bright without any irritation.