Non-Surgical Face Lifting
"It's the least invasive of all non-surgical facelifts, and results can be seen after the first session…The treatment encourages collagen growth and elastin in the face while toning and lifting the facial muscles. CACI can also heal scar marks, boost vitality, and encourage cell renewal," Laura Bermingham, Beauty Editor Evoke.ie 
CACI Non Surgical Facelift Facials 
Considered the most advanced electrical facelift system of its time, CACI utilises a computer aided cosmetology instrument to lift, tone and re-educate the muscle back to its original position. 
As well as stimulating collagen and elastin it also offers numerous rejuvenation benefits. CACI uses a unique, patented waveform which allows the micro current to penetrate directly into the core of the muscle giving unrivalled treatment results.
Caci Synergy uses a combination of ultrasound, LED and microcurrent to tone and lift facial muscles while simultaneously firming the skin by boosting collagen. 
It results in radiant, younger looking skin that is naturally hydrated and plump. The treatments are customised to each age group from 20's through to 60's and beyond

Benefits
Lifts facial muscles
Brightens and hydrates the skin
Deep healing and cellular renewal
Increases elastin and collagen in the dermis
Can help to heal scar marks
Boosts overall skin vitality by stimulating cellular renewal
It's full face and neck rejuvenation, including lifting and toning with S.P.E.D. (Simultaneous Photo Electrical Delivery). 
The effect is enhanced using high brilliance LED. Includes hydrating anti-wrinkle and firming serums.
Time: 60 minutes - Cost: €110 | Course of 6 - €550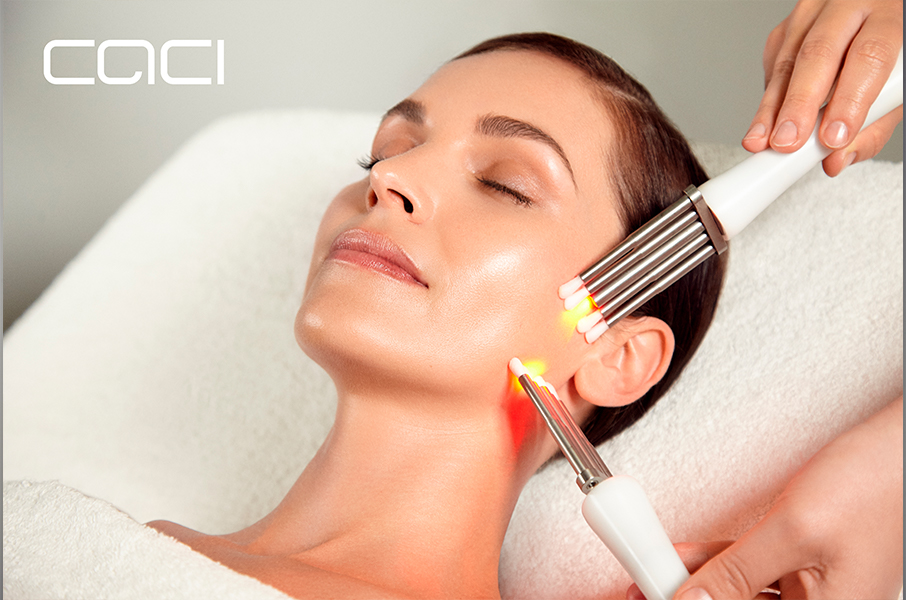 Full face and neck muscle rejuvenation lifting and toning with SPED. This is a dual-action performance treatment with high brilliance LED plus ultrasonic actuator wrinkle comb and orbital microdermabrasion. Includes hydrating anti-wrinkle firming serums.
Time: 90 minutes – Cost: €160 | Course of 6 – €750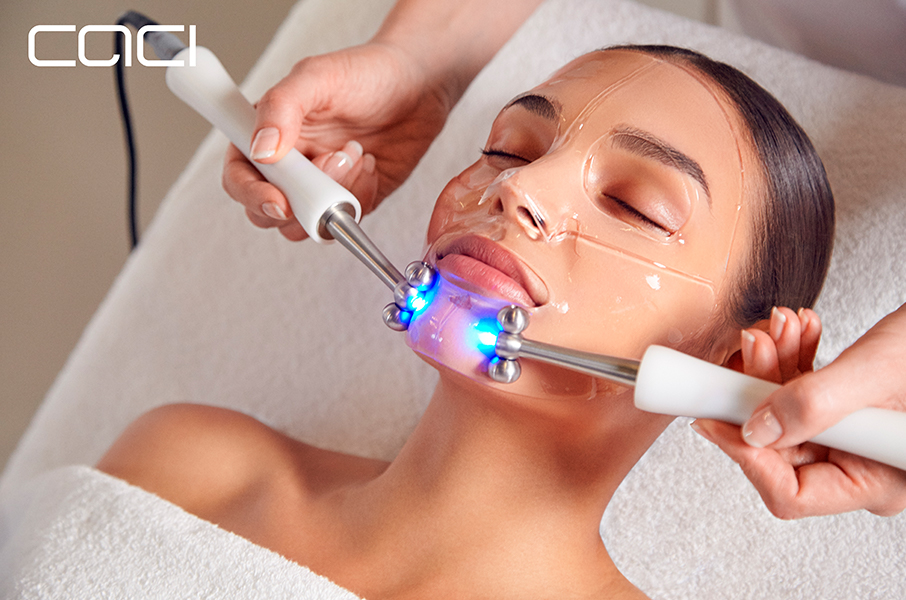 CACI Eye Revive Treatment
-Soothes tired & puffy eyes.
-Combats dark circles.
-Reduces fine lines & wrinkles.
-Lifts hooded eyes.
CACI Eye Revive treatment uses microcurrent to gently tighten and tone sagging muscles around the eye area, whilst reducing the appearance of fine lines and wrinkles. 
The treatment uses serum filled CACI microcurrent eye rollers to infuse the CACI Eye Revive serum deep into the skin, to reduce puffiness and dark circles. The deeply nourishing Hydro Eye Mask is then applied to soothe the skin and reduce fine lines and wrinkles.
Time: 30 minutes - Cost: €71 Course of 6 - €355